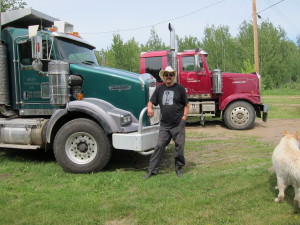 Incorporated in 2004, D-Kats Contracting Ltd. is a local Aboriginal owned trucking company that employs up to 8 residents of the region. Owner Dan Quintal together with his wife are proud of their business and the reputation for safety and quality customer service they have worked very hard to establish and maintain over the years. Dan first heard about Lac La Biche Regional Community Development Corporation from newspaper advertising and by talking to fellow entrepreneurs about where to turn for assistance with starting a business. Lac La Biche RCDC initially helped with putting together a business plan and also financed a 2005 Kenworth truck. Today they have expanded to 5 pieces of equipment and counting.
Why choose RCDC? You were easy to approach and to deal with. Not as rigid as the banks. You took the time to understand my business' needs and made recommendations that were flexible enough to accommodate them. Loans are also approved and funded in a timely manner. Other methods of financing could take too long and by the time approval is in place, the contracts have been awarded to others. In our line of business, when an opportunity presents itself, we need to be able to make quick decisions and have the backing of an organization like RCDC to be decisive and timely.
Any recommendations for new entrepreneurs? Always secure the contract first and then purchase equipment. Maintain good bookkeeping. Be persistent, sometimes if you want to get the job you have to keep phoning to make things happen. Plan in advance. Set aside money for expenses like payroll for next year, summer is short, you have to be ready in October. Stay on top of equipment and maintenance. Fix it, even if you have to stay up all night to have it ready. Be self-sufficient. Have all the equipment you need with you. Don't borrow from others. Pay your employees on time and keep your cool when you talk to them. Treat your employees well, do whatever needs to be done for them, even if it means being their gopher. Develop a GOOD reputation for quality work and through hard work and honest dealings. This is important in creating positive word of mouth with both employers and employees. Keep an exemplary safety record, maintain ISNetworld, this helps you get contracts.
Why did you choose the trucking business? I enjoy the work, and like that I work for myself, not someone else.
How many clients do you currently serve? 10 Describe your ideal client. Ideally we would prefer a client that has year-round contracts.
Vision for the future of D-Kats Contracting? Continue to upgrade and maintain 4-5 pieces of equipment however, we're always looking out for a good contract, then he would expand (he says with a smile).
Recommendations for RCDC: Offer Life insurance directly. Continue to promote seminars or courses showing people who do the bookkeeping for small businesses different things such as basic computer use, accounting programs, how to deal with certain problems etc.
Dan Quintal
D-Kats Contracting Ltd.