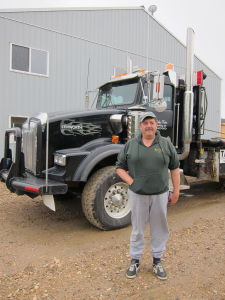 I think we first went to RCDC when Kal Polturak came to see us. Or someone told us to try them, it's been a long time.
Our experience has always been positive and satisfactory. Tried hard to work with us. I believe the most important thing a person needs to know is that it takes a lot of time and sacrifice. That you have to be willing to put in the time, especially in the beginning and not expect much return until your business is established which can sometimes take a few years.
I have always wanted to be in the trucking industry, always. The gas/confectionary was an opportunity that came our way at a point in our lives when we believed it would benefit us. We always found them supportive in what we wanted to do.
I have been in the trucking industry for almost 25 years and at the store for 2 1/2 years. Squirrely's has 12 full/part time employees. Billy Taha Trucking has 5 permanent employees and up to 5 more employees as required for certain jobs.
Ideal clients right now seem to be project jobs that last for a certain period of time. And of course the local trucking companies keep us busy in the winter months with the oilfield hauling. For the store, our clients are split up with the locals and the crews that go through town. We currently serve about 5-6 clients for the trucking side, which also varies with random jobs in between.
I believe there is capacity for growth in both of our businesses. I think we can continue to grow along with the growth seen in the oilfield industry. RCDC has always been open to our ideas.
Billy Taha
Billy Taha Trucking Ltd.