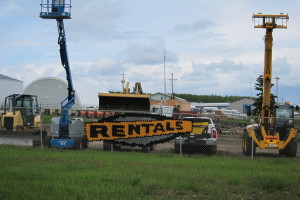 My name is Mike Hammons, one of the owners of Lac la Biche Equipment Rentals. We've been in business six years in Lac La Biche. I chose to open a Rental shop in Lac La Biche to offer some different types of equipment that just were not available. It was certainly a struggle for the first few years but after a lot of hard work and perseverance we have established ourselves in Lac La Biche and are growing very rapidly.
We currently employ 5 full time & 2 part time employees at our business and are continuing to grow every year. We have served over 4000 different customers in the area ranging from the oil & gas industry, the construction industry as well as the regular homeowner. We pride ourselves on offering quality service to back the quality equipment we provide, and Community Futures Lac La Biche is helping us get the equipment we need when we need it in a timely fashion.
Gene & Reuel at CFLLB have been great to work with; they are always available to speak on the phone to help me get the financing I need to purchase equipment. The great thing about CFLLB is that they offered a product that would best suit the needs of our business. Most banks will not give you the option and if they do it is time consuming to go through the process of purchasing the equipment. At CFLLB I call Gene and he can have the financing I need in short order. So I would say the biggest selling point that CFLLB offers is the quickness and ease of service they offer in a quick paced industry.
Mike Hammons
Lac La Biche Equipment Rentals Ltd.