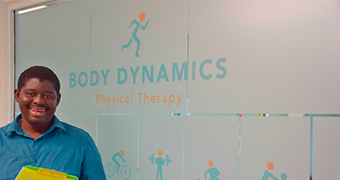 I am an immigrant to Canada from Nigeria. As you can imagine I faced not only a language and culture barrier, but I also have a physical disability from having suffered polio as a child in a poor country.
My transition from Nigeria to Canada was not an easy one but I can say that this country allows a great chance of success for anyone who is willing to work hard and determined to overcome obstacles. After working for Body Dynamics for only a few months I was approached by the previous owner about purchasing it, she saw the Entrepreneur in me. I had almost no hope that anyone would lend money to a new immigrant, one who is disabled, and with little to no roots in this community.
This is where Community Futures stepped in and took a chance on this humble man through the use of their Entrepreneurs with Disability Program. They made this dream a reality.
Liv came to my office to tell me in person about the loan approval and I fell to my knees to thank God, hugged her fiercely, and then it really started to sink in that this was real.
Liv told me "This is what Community Futures does". I replied that this might be a job or a thing that they do, but reminded her that Community Futures actually changes lives and it really did change mine that day.
God Bless
Oluwaseun Fanowopo (David)
David had a goal to become a Workers Compensation Board Certified physiotherapy center within one year to full a large gap in care in Northern Alberta and instead did this in 8 months; he is now the only WCB certified physiotherapy center within 200 km of Lac La Biche, Alberta.